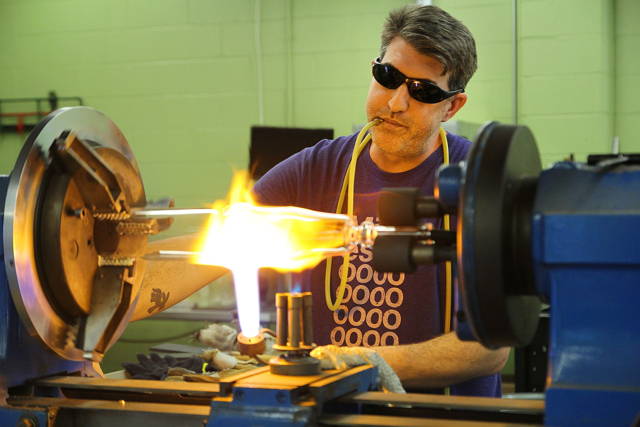 Derek Zubich is one of Stone Arch Glass Studio's most seasoned employees with over 20 years in the industry, 8 years of which have been with Stone Arch. Derek's inspiration comes from nature, "How resilient and fragile it is all at the same time." The limitless boundaries glassblowing provides are what sparks his passion. His goal as a glassblower and artist are honorable, "I just want to continue to support my family." Even though Derek has met challenges in pursuing his career, he can offer a lot of wisdom to live by; "This is an art lifestyle, you get what you give."Zubich's favorite items to make are sherlocks and sidecars since he has "Always been a dry pipe guy." When it comes to his style he said, "I think my style is classic late 90's. I like to keep it simple, less is more." However, don't let Derek's simplicity fool you. Most of his "flashy" pieces have a story behind them. If you find yourself picking up a pipe he made, shoot Derek a message and he'd be happy to share the story behind it. Derek is also the repair expert at Stone Arch and has brought many pieces back to life for folks! If you want to lay your eyes on Derek's work check out your local Hideaway store or follow him on Instagram: @derekzubich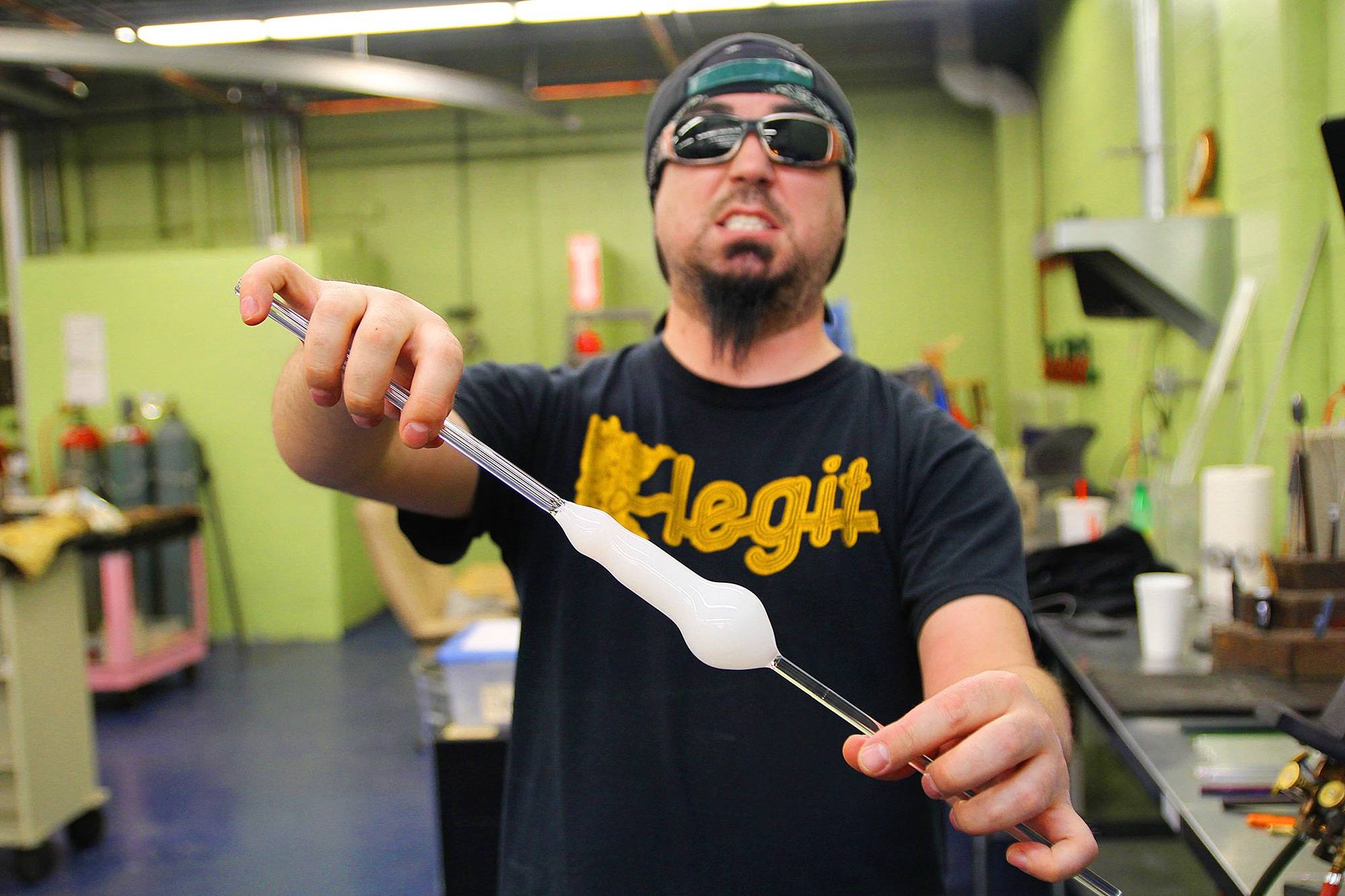 Chris Masimore, also known as X-Hail has over 15 years of experience in his self-taught craft. "I had a fascination with glass since I was young. When the door opened to try it out, I ran through." X-Hail is most definitely a well-rounded artist. In his free time he tours in a rock band called Blue Felix, plays guitar, enjoys traveling, photography, sports and art. His hobbies also influence his work, Chris said, "Anything that excites me inspires me to create." When asked what challenges he has encountered in pursuing his career, X-Hail's response was full of wisdom, "Challenges are just opportunities to get better."Masimore describes his style as old school. "I'm into bright, vibrant colors and interesting shapes. I love surface work and lively decoration such as marbles and spikes." X-Hail's favorite thing to create are unique, one of a kind, dry hand-pipes and his passion surely radiates from these pieces. "I am passionate about all art. Glass is special because people use and appreciate your art before you're dead." Chris has already achieved his main goal in the industry which was to make a full time career of it but always has the goal of finding time to make headies. If you find yourself ooing and ahhing at some of his work, take the time and appreciate the effort that went into each piece. "I throw myself into every piece individually and I always stand behind the quality of my work 100%," he said. So if your #glassgoals are to own a one of a kind Minnesota Legit pipe check out your local Hideaway store and look for his signature hidden on the glass. Follow him on Instagram @xhailbluefelix if you want to see what he's been up to in the studio.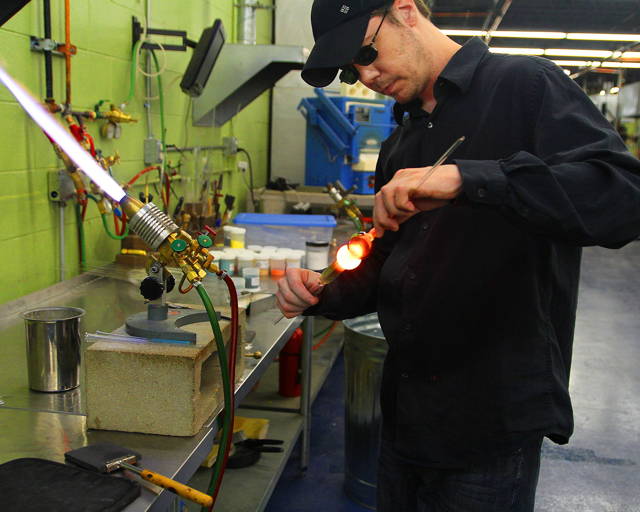 Meet Odd Thomas! Kyle Thomas has been blowing glass since he was 20 years old! He has 14 years of experience, 4 have been with Stone Arch Glass Studio. He got his start after his friend saw someone blowing glass on the beach in California and was so intrigued, he hired him to come to Minnesota to share his craft. Soon after Kyle made the switch from restaurant management to glass blowing. Everyday life provides much of Thomas's inspiration with his style described as "exotic yet functional" Kyle enjoys making spikes, line work, double layers and creating creatures. As with most careers in the art world there were challenges in pursuing his career but overtime his style of art has become wildely accepted. Now the Odd man's career goal is simply longevity; he wants to retire a glass blower. When you purchase an item Odd Thomas has made he wants you to know he stands behind his work. "We take a lot of pride producing glass Minnesota loves and appreciate the support!"Kyle's favorite thing about working for Stone Arch is that "They are passionate about the brand and care. Plus, they're good people." His tip for aspiring glass blowers is "hours equals powers." If you're interested in putting in some hours in the glass studio check out Stone Arch's glassblowing classes. Keep an eye out for Odd Thomas's work on your next trip to The Hideaway or follow him on Instagram: @odd_thomas_boro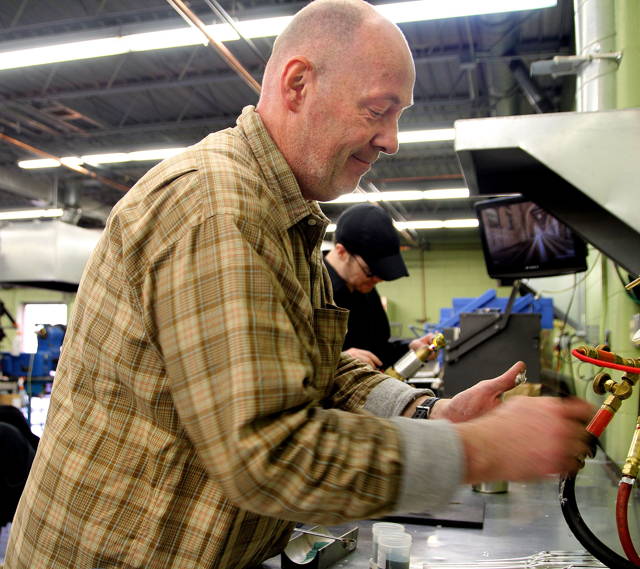 Tom is Stone Arch Glass Studio's most experienced artist with a whopping 35 years behind the torch. He got his start at the University of Minnesota in their Glass Technology program. While Tom doesn't come in everyday, he still comes in to teach classes. He has spent over 8 years at Stone Arch and shares his knowledge and experience with his students in the classes he conducts here. Tom is passionate about the art because "It connects me to our past and future." He is influenced by "the unnatural order of natural things." One of Tom's biggest hurdles is his level of imagination vs. his level of skill. At least his skill level is always growing with his goal to continue to educate himself as well as the public. Tom enjoys working with Stone Arch for the work experience and the people. His work is never done as he creates in his free time as well. Tom's tip for someone aspiring to break into the glass industry is to "Work hard toward achievable goals, ask questions, and take classes!"
EXCELLENT QUALITY
"Excellent quality. Lasted 8 years before I foolishly tried to break up some ice, creating a hole in the bottom which I can repair."

FRIENDLY STAFF
"Fixed a few of my broken pieces and did a phenomenal job. Friendly staff!"

REALLY NICE GLASS
"They have really nice glass works and can fix broken pieces made by them."